what are my option to fix it?
TNX
Please share some more details with us. For example:
Is this a brand new Phantom 4?
Did this error appear the first time you used your Phantom?
If this error did not always appear, what changed in between now and the last time all worked as expected?
Where exactly is that message displaying?
What's the exact message?
Is there anything else important we should know?
Did you have a crash? And do you have any camera image on your screen?
not new about 2 years- Never problem…
i was traveling as hand luggage and at the moment i was ready it appeared.
left side of the scree -Camera sensor error"
black screen-no Image…
No crash.
TNX
Most people have resolved this issue by replacing this board inside of the gimbal: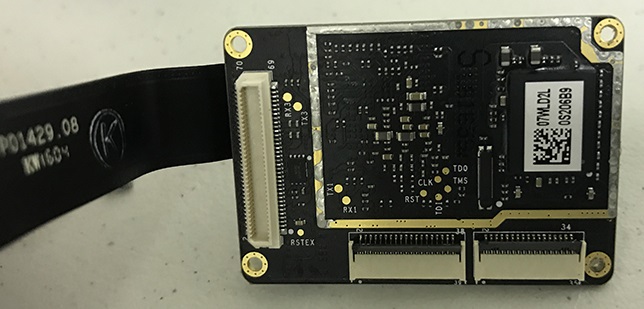 See this thread in the DJI forum for more details.
I've seen a few people mention they were able to resolve the issue by replacing the gimbal ribbon cable. If that cable appears to be damaged, then that could be your issue. You can purchase a new Phantom 4 gimbal ribbon cable here on Amazon or here on eBay. See this video for an example of what's involved to replace it.
If you're not comfortable doing this repair yourself or don't want to void your warranty by self-repairing (if your Phantom is still under warranty), then contact DJI support for help or use one of the authorized service centers listed here.
If you don't have insurance or a warranty definitely hit me up. I repair drones and have the parts in stock to fix this. I'm happy to help you troubleshoot too
Where are you located? Do you have a website where people can find more info about your repair services?